Welcome to the website of the
North American Briard Club.
The NABC is a wonderful group of Briard fanciers and UKC enthusiasts, who enjoy showing, trialing and participating in activities with their dogs at UKC events. We hold annual UKC all-breed shows over Memorial Day weekend and Thanksgiving weekend in Punta Gorda, Florida. We also hold Briard-only specialties. If you want to enjoy spending time with your dogs and want to make new friends, come join us!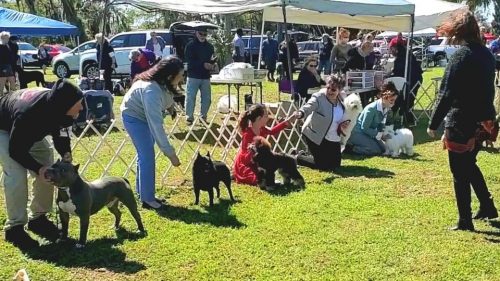 NABC NATIONAL SPECIALTY
UKC Show – Briards only
Friday, AUGUST 20, 2021   5 p.m. – 8 p.m.
Janet Emery – Judge
MUNCIE OBEDIENCE TRAINING CLUB
214 E Centennial Ave, Muncie, IN 47303
(2 minutes from Fairground)
Here is the link to the UKC Events page:
https://www.ukcdogs.com/event/north-american-briard-club-aug-20-2021?calendar_id=3&view=all&offset=0
Our club will consider this show as their 2021 National Specialty. Come join the fun!
A light dinner will be provided at no cost for all persons who have entries in the show. Lovely Briard themed prizes will be awarded to the winners.
Special award will be given for the Best Breeder Handled Briard from the winners of the Breeder Handled class. Special medallions will be given out to all NABC members who finished a UKC conformation title since our last Specialty. Please send an email to diorbriards@gmail.com with the registered name of your dog and which title was completed.
Pre-entries can be mailed to: Denise Simenauer c/o Janice White, 3181 S Co. Rd.300W, Greencastle, IN 46135. DO NOT SEND pre-entries to the Cape Coral address. Pre-entries will also be taken in-person at the Fairgrounds August 17-19, or by email to diorbriards@gmail.  You can call Denise at 269-352-4011 to arrange to drop off your pre-entries. Or, you may send a scanned or phone camera photo of the entry form to her email address. Entries may be paid for by cash, check, Paypal or Venmo. Paypal or Venmo should use the email address of our Treasurer: petersimenauer@gmail.com. For Venmo, please send the payment as a friend. Phone number 269-352-4011. Pre-entries must be received by Thursday, August 19 at 6 p.m.
No refunds will be issued once the entry is submitted.
Air conditioned show location is only 2 minutes from the Delaware County Fairgrounds.
Dogs entered need to be individually registered with UKC or have a Temporary Listing Number. TL numbers are available 24/7 at https://www.ukcdogs.com/tl-numbers
The following categories of handlers are allowed at UKC shows:
• Owner or co-owner. The owner or co-owner of a UKC registered dog may enter and exhibit his/her own dog in UKC events. In addition, the following immediate family members of an owner or co-owner may enter and exhibit the dog; spouse, parent, step-parent, child, stepchild, sibling, grandchild, in-law. Professional handlers who own UKC registered dogs may exhibit their own dog(s) in UKC events.
• Breeder. The breeder and/or their immediate family, of a UKC registered dog may enter and exhibit that dog in UKC events, even if the breeder is not an owner or co-owner of that dog, provided that the breeder-handler is not a professional handler.
• Designated handler. Any individual who has been given permission to do so by a registered owner or co-owner of a UKC registered dog may enter and exhibit that dog in UKC events, provided that the designated handler is not a professional handler.
A professional handler is a person who exhibits dogs for compensation. This category includes any person who accepts any pay, gift, or remuneration of any sort in return for exhibiting a dog. A person is no longer considered a professional handler if he/she has not acted in this capacity in five (5) or more years. 
HERE ARE THE RESULTS
from our 6 ALL-BREED UKC DOG SHOWS
Memorial Day weekend, May 29, 30, 31, 2021
GO HERE TO ENABLE A FILLABLE UKC CONFORMATION ENTRY FORM.  new-conformation-form-FILLABLE

Visit us on Facebook
OFFICERS
PRESIDENT –   Denise Simenauer          diorbriards@gmail.com
VICE-PRESIDENT –  Michelle Holmes    briardmom@mac.com
SECRETARY –  Janice White                     darksidersmaxine@msn.com
TREASURER – Peter Simenauer             petersimenauer@gmail.com
DIRECTOR – Sue Spencer                         briardmomma@gmail.com
The OBJECTIVES of the NABC are:
Promote a closer relationship among Briard owners, breeders, and fanciers of the Briard breed.
Promote the betterment of the breed through NABC activities, educational events, and
Encouraging the breeding of better and finer purebred dogs by educating NABC members through seminars, internet websites, etc. This also includes supporting health related studies related to the Briard breed.
Do all in it's power to protect and advance the interests of the breed by encouraging sportsmanlike behavior at all dog related events, and
Promote and support the ideals, activities and the interests of our membership through participation in breed related competitions and events, and
Publish a newletter for minutes of meetings, officer reports and a general means of communication among the membership, and
Conduct sanctioned and licensed events under the rules of the UKC
Enhance the knowledge of the membership about the Briard through various educational events and seminars, and
To establish, promote and support Regional organizations of this Association that will enhance the knowledge of all individuals relating to the Briard breed.